In the spring or early summer, Eric at SheppyBrew made me aware of the Six Pack Project, and I've followed the project with interest. Recently I noticed that there still wasn't a Tennessee blogger. A few tweets and emails later, and here I am. Thanks, Bryan, for getting this started and giving me the reins on the Tennessee six-pack.
The concept is simple... Highlight a six-pack of our state's native brews that best represent what our beer culture has to offer. If someone is coming to visit, what bottles or cans would we want to share?
Here are the rules:
Pick a six-pack of beers that best represents your state and/or state's beer culture.

Beer must be made in your state, but "gypsy" brewers are acceptable, so long as that beer is brewed with an in-state brewery and sold in your state.

Any size bottle or can is acceptable to include.

Current seasonal offerings are fine, but try to keep selections to year-round brews as much as possible. No out-of-season brews preferred.
Sounds pretty simple, eh? Well, nothing is as simple as it seems. For those not in our state, you may not know of Tennessee's struggle to get a growing craft beer scene going, and we've had a limited amount of bottled beers as a result. Our state is saddled with the highest beer tax in the country, and the tax was structured in a way that led to rapid increases. This has dissuaded breweries from opening here, and established breweries from opening up secondary breweries in the state. It also keeps breweries from distributing into our state, but that's a different story for a different post. In fact, I've
already done that post
. Skipping most of the details, after a fight by the Tennessee Craft Brewers Guild, as well as the beer fans in the state, the
tax was fixed
. We still have the highest tax in the country, but it has been stabilized, and the result is the beginnings of a new beer renaissance in our state. New breweries are popping up like weeds, and several breweries are beginning distribution here. Signs of great things to come.
Even with the taxes and other obstacles, there were a great number of very good breweries already setting up shop in Tennessee, with over 30 at the last count I saw prior to the tax changes (I'm sure it's more than that now). The TN Craft Brewers Guild lists 24 breweries as members on their website. In Nashville alone, we've had an explosion of new breweries. I've detailed that list of breweries in Middle Tennessee in this recent post, and I counted 16 breweries in the area at the time of that post.
So, enough long-winded blabbering... on to the task at hand. I was able to whittle the list of breweries that I knew of that bottled to about ten. I'm hoping that people in other areas of Tennessee can add comments giving their hometown breweries some love, as there may be someone out there bottling/canning that I don't know about, but I limited this list to beers I had actually tried (which ended up being beers from nine of these breweries). As a result, we're a little Nashville-heavy here, but I made myself guarantee that I would only fill half of the six-pack with mid-state beers, that I would try to hit a brewery from each of the major regions of the state in the other side of the six-pack, and that I'd only include one beer from each brewery. I could have easily picked from the other breweries, as they all have interesting options, and I will list a blurb about the other breweries after the six-pack. I will also state that this list would be wildly different if it included on-tap only beers, as we have a number of great breweries in the area that are by-the-pint and growler fill only. Perhaps a six-growler challenge in the future for non-bottled beers?
Here... we... go...








The Brewery
We'll start with the oldest active brewery around here... Blackstone Brewery. Stephanie Weins and Kent Taylor opened Blackstone in 1994, and have over the years established them as one of the top breweries in the region. Their brewer through 2012 (when he retired from day-to-day involvement), Dave Miller, is one of the foremost homebrew authorities, who has published some of the most acclaimed homebrew books available (available here and here on Amazon) and has been a professional brewer for over 20 years, starting with Schlafly in 1991 and at Blackstone in 1994. The brewery is the most decorated of the Nashville breweries, winning several awards including six World Beer Cup medals and eleven Great American Beer Fest medals, and boasting the most decorated porter in the country. They offer occasional tours at the sparkly new brewery location (which I detailed in a post here), and their beers are available in bars, restaurants and beer stores throughout the area. The new brewery location expands their production capacity to 16,000 barrels, allowing for further growth and the opportunity to contract brew, as they do for Schlafly Pale Ale. For homebrewers, five of the homebrew recipes that were used by Dave to develop the core Blackstone beers are available here.
The Beer
Adam Bomb IPA - 83 IBU - 7.3% ABV - Rating: 96 - Ratebeer
This contest, run by A.Y.E., was a blind taste test, bracketed competition that included base IPAs from a list of highly respected breweries: Stone, Dogfish Head, Goose Island, Sierra Nevada, Bear Republic, Founders, New Belgium, Victory, Sweetwater, Maui, Caldera, Lagunitas, Terrapin, Bridgeport, and Bell's. Criteria for entry was a 92 or better rating on RateBeer. The fact that a small Nashville brewery beat out these big time players in the craft world is pretty darn cool.
From the Brewer:
Adam Bomb is our first high gravity offering and this beer is a monster. The ABV weighs in at 7.3% with 83 IBUs of bitterness. There is a massive amount of hops in this beer with a two week dry hopping schedule comprised of three different dry hop additions.
My Take:
Adam Bomb (named for Kent's son Adam... Many of the beers are named for his kids or grandkids) is a big floral and citrus hop bomb. Aroma is grapefruit/citrus and pine with maybe a bit of caramel. Pour leaves a creamy white head that lingers. Taste is also citrus with a bit of caramel, and a nice grapefruit finish. Medium mouthfeel and a bit sweet and sticky.
Other beers to try from Blackstone:
St. Charles Porter (the most award-winning Brown Porter in the history of the GABF), Chaser Pale (Kölsch), Nut Brown Ale, APA, and seasonals (Pumpkin Ale, Maris Otter Pale Ale, Picnic). The taproom also features rotating limited editions and occasional casks.
Resources:
http://www.blackstonebrewery.com/ (still under construction)
https://www.facebook.com/blackstonebrewpub
The Brewery
Yazoo Brewery is the brainchild of Linus Hall, who started his brewing days in college with a small homebrewing kit. After moving to Nashville to take a job at Bridgestone, he continued to expand his homebrew craft, eventually deciding to make a go at a brewery. He quit his job, completed an MBA at Vandy, and interned at the American Brewer's Guild and for Garrett Oliver at Brooklyn Brewery before starting Yazoo in 2003, named for the Yazoo River in his home state of Mississippi. He purposefully started slow, using this strategy to expand the business without incurring a load of debt. The strategy paid off, as now Yazoo has grown 30-40% per year on average, and is widely available in bars, restaurants, and bottle shops in Tennessee, Mississippi and Georgia. They've grown out of the original brewery and moved into a larger, but still modest, new brewery in the Gulch (that by all appearances is already nearing capacity). Still small in comparison to the big guys in the craft field, Yazoo produced 11,500 barrels in 2011 as they continue their slow and steady growth. They are arguably the most recognizable of the Tennessee breweries to the outside world, after serving at GABF and surrounding events for the past several years, presenting their beers at SAVOR in both 2012 and 2013, and even collaborating with New Belgium (just to name a few outside-TN events). Next week the brewery will be hosting their 10th anniversary party at the brewery, and continues to be a Nashville institution.
The Beer


The History:
Gerst Brewery was founded in 1893 after William Gerst bought the Nashville Brewing Company (founded 1847), and was the largest brewery in the South before prohibition, taking up several city blocks in south Nashville. The brewery was hit hard by prohibition, and then later by the expansion of national brewers by way of refrigerated rail cars. The brewery closed in 1954, and Gerst beer was shelved until the Chandler family (who owned the Gerst Haus restaurant) contracted the Evansville Brewing Company to revive the Gerst Amber in 1988. By 1992, they were bottling and distributing the beer again until the Evansville Brewing Company declared bankruptcy in 1997, upon which the Pittsburg Brewing Company was contracted to continue draft beer production for a period of time before the beer
was discontinued. Fast forward to 2011, and Yazoo worked to revive the amber recipe a full 15 years after the final bottling and 57 years after the last time it was produced in Nashville.
From the Brewer:
Check out a piece of Nashville brewing history! Gerst Brewery was the original Nashville brewery, but never recovered after prohibition. We're excited to partner with the Chandler family, owners of the Gerst Haus restaurant, to bring this beer back right where it belongs... Nashville, Tennessee. This is a very clean beer, with mostly German malts and a hint of flaked maize, remaining as true as possible to the original Gerst recipe.
Fermented on the cool side with our house ale yeast, around 62 F for primary fermentation. The cool temperature restrains the yeast, so that the beer is very clean, with a slight ester that we think pairs up well with the caramel flavors from the Cara 20 malt. So it's an ale, but with the clean character of a typical lager, and without the slight sulfuric notes some lager yeasts give.

My Take:
One of my favorite everyday beers, as evidenced by the volume of check-ins on my Untappd account, where I am solidly in first place for this beer. There are more highly rated Yazoo beers, but you can't beat the history on this one. Pours a very clear amber color with a nice off-white head that lingers and moderate carbonation. Aroma and flavor is grains, caramel, toasty bread, biscuit, and a bit of fruit. Fairly light body and good mouthfeel. Very well balanced.
Other beers to try from Yazoo:
So many to pick from... Sue (GABF winning smoked porter), Hefeweisen (WBC winner), Dos Perros (Mexican brown... Yazoo's flagship beer), Preservation Ale (annual wet hop pale, with hops picked from the local hop farm), Pale Ale, Sly Rye Porter, Hop Project (rotating hop IPA series... currently on the 74th iteration), Hap and Harry's Tennessee Lager, Hap and Harry's Tennessee Ale and seasonals (Rye Saison, Fall Lager, Onward Stout). Oh, and if you're like me, you have a bottle of Fortuitous in your cellar. Yazoo has also spent the last year or so starting their very successful sour series (Fortuitous was the first bottled sour), and many times have a beer from the series on tap at the taproom, as well as occasional cask ales.
Resources:
http://yazoobrew.com/home.html
http://blogspot.yazoobrew.com
http://www.amazon.com/Nashville-Brewing-TN-Images-America/dp/0738543470
[ok, I kind of cheated here... I wanted to include Jackalope, but their canning doesn't start for another month or so. They did, however, have a limited bottle release last week, so I made a hybrid entry to fit them into the six-pack. Ongoing, after the beers are on the shelf in cans, I recommend Bearwalker, but I wanted to also present a beer that is available now initially, albeit in a limited, and likely hard to get, release, until the time that the standard beers are available on the market. Thus, I'll profile both beers. Plus it gave me the opportunity to head over to the brewery to get the bottle, which in turn resulted in discussing with Bailey and Steve the latest goings-on. Win-win... ;) ]
The Brewery
Opened in 2011, Jackalope Brewery is located in the now-dubbed Nashville Brewery District, right around the corner from Yazoo. The brewery is the first female owned brewery in Tennessee, and is a partnership of Bailey Spaulding, Robyn Virball and Steve Wright. After debuting at the East Nashville Beer Fest in '11, the brewery has gained a loyal following, both at its taproom (which I did a post on around the time of the grand opening, but it has apparently gone into the ether) and at the bars and restaurants their beers are served at throughout the area. Starting this fall, the brewery intends to start canning their beers for sale at groceries and beer stores, utilizing a mobile canning line. This will make them the first Tennessee brewer to jump on the canning bandwagon, which, of course, comes with the benefits of portability, less light and air exposure, lighter weight, and ease of recycling. Business has been brisk, and the brewery has had to work hard to keep up with demand. This spring, the brewery
installed bigger fermenters to double production over the course of the summer, and also has plans to add another fermenter later this year. Though only celebrating their second anniversary this year, Jackalope has established themselves as a well-known name in beer in the Nashville area.
The Beer(s)
D07 - unknown IBU - unknown ABV - Rating: no ratings yet
Bearwalker Maple Brown Ale -
34
IBU - 5.10% ABV - Rating: 81 - Beer Advocate
From the Brewer:
D07: White wheat ale aged with vanilla beans in a spiced rum barrel.
Bearwalker: The recipe for Bearwalker was among one of the first recipes written by Brewmaster Bailey, years ago. Bearwalker is a maple brown, and the recipe pays homage to Bailey's home state of Vermont as we use 100% Vermont Maple Syrup in the brew. The result is a distinctive maple flavor that truly sets this beer apart and warms your belly.
My Take: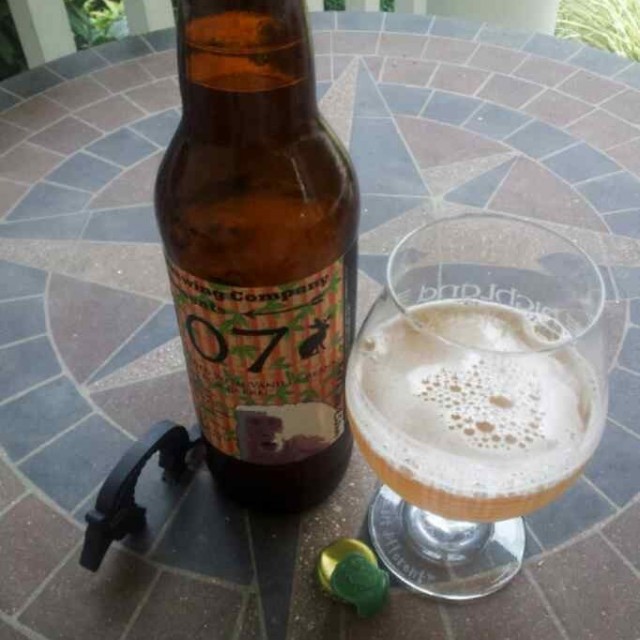 D07: Following Tannakin, a stout brewed with local coffee, local cocoa nibs, local bacon, and aged in local bourbon barrels, which was the first limited release, D07 is a wheat ale that was also barrel aged, this time in a spiced rum barrel with vanilla beans. This one pours a cloudy pale color of a standard wheat, with a white head that dissipates into a ring. Aroma is sweet... rum and a bit of vanilla. Flavor is much the same, with (according to some friends who tasted) a Double Bubble bubble gum flavor (that was perceived as a good thing, if you're asking...). Rum is somewhat predominant, and integrates nicely as it warms. I really liked this one best after it had been out of the fridge for a half hour or so. Very nice.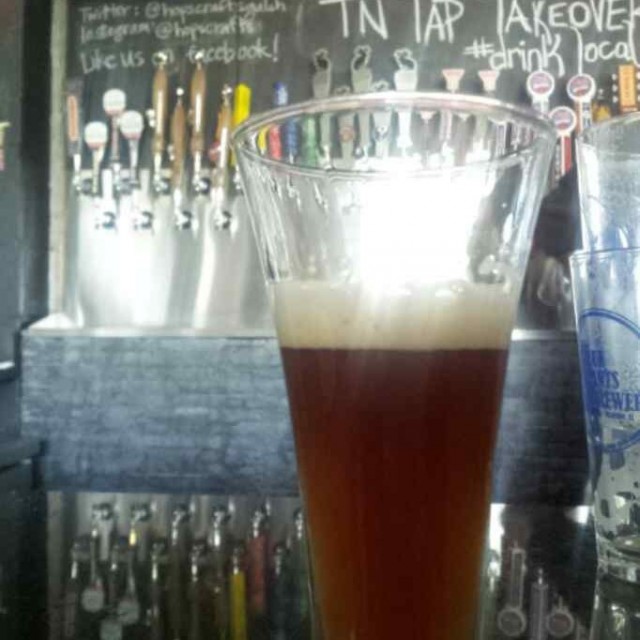 Bearwalker: This brown ale pours a cloudy brown with a beige head that lasts. Aroma is all maple and brown sugar... smells like my morning oatmeal from the Quaker guy, with maybe a touch of grain and floral hops. The taste is maple up front, chocolate, malt, a bit of pine and floral. It all meshes pretty well into a sweet brown with a pretty thick mouthfeel.
Other beers to try from Jackalope:

The standard rotation consists of Bearwalker, Thunder Ann Pale Ale, and Rompo Red Ale. I'm assuming all three of those will be involved in the can release, but that may be me making things up. The taproom (as of last Friday) had eight beers on tap, including the above mentioned beers, plus Leghorn Rye IPA, Lovebird (strawberry/blueberry wheat), Casper the Friendly Gose (my personal favorite), Jazz Honkey Donkey-Weizen (another favorite from my last visit), and Dire Wolf IPA. The taproom rotates seasonals and specialties, and also offers occasional casks.




EDIT (12/18/13): It appears that I should have profiled Thunder Ann Pale Ale instead of Bearwalker as it is the first to can. No matter... just glad to see another Nashville brewery in the stores...

Resources:
http://www.jackalopebrew.com/
http://blogalope.tumblr.com/
https://www.facebook.com/pages/Jackalope-Brewing-Company/150733614966165
The Brewery
Branching out of the mid-state, a brewery I've just started learning about is Depot Street. Located in historic

Jonesborough in the far eastern corner of Tennessee, Depot Street Brewing is a small batch brewery working off of a 10 barrel system capable of brewing about 310 gal of beer at a time. Interestingly, they stress being eco-friendly, going so far as using delivery trucks that run on biodiesel fuel made from vegetable oil. I've had the opportunity to try four of their beers thus far, and they are all solid for their style. They've just recently come into the Nashville market, and I look forward to tasting more of their beers in the coming months.






The Beer

Loose Caboose Lager

- 20ish IBU -

5.80%

ABV - Rating: 83 - Beer Advocate



From the Brewer:
A Dortmunder style German Lager with a malty taste and balanced hop content. Appreciated by beer

connoisseurs and lovers of domestic styles alike.
Gold Medal Winner at the 2007 Carolinas Championship of Beer
My Take:
Pours golden with a slight white head that dissipates to a small ring. Aroma is noble hop and grain. Flavor is spicy/grassy noble hops and biscuit grain, with a bit of sweetness and some citrus. Medium body and mouthfeel. A nice balanced dort that is great for a summer sipping session.
Other beers to try from Depot Street:
In bottles, Eurail Gold, Roundabout Stout, and Depot Express. Taproom/draft beers include DSB Oktoberfest, Whistlestop Wit , Southbound Scottish Ale, and Freight Hopper IPA.

Resources:








The Brewery
This is a unique one. The Blackberry Farm Brewery is part of one of America's most celebrated and intimate luxury hotels. A private residence until the '70's, the farm has since served as a hideaway in the Smoky Mountains, rated among the best luxury resorts by several food and travel resources, including

Bon Appetit

(#1 Hotel for Food Lovers in America),

Condé Nast Traveler (

Best in World Awards for Southern Hotels),

The Food Network (

America's Best: Top 10 Destinations),

Andrew Harper's Hideaway Report (

#1 Food and Wine Resort in the World), and several others. The brewery is a small batch brewery that offers their beer only at the resort's restaurant and store.

They originally set up as a half-barrel pilot brewing system, but the three core beers have been so wildly popular based solely on sales at the Farm that they found themselves consistently behind in production Thus, they are embarking on an expansion into a 20-bbl or larger brewing system this year, which will allow more volume on the main three beers, but also the chance to expand their portfolio.

As of now their beers are extremely hard to come by, which almost led me to leaving it off of the list. But I believe that their beers are among the best beers that Tennessee offers, so I decided to keep them on here. Their focus is on bottle conditioned Belgian style ales (which are some of my favorites). They are trying to work out the logistics and legalities of shipping, so signing up for their mailing list is worth your while.
The Beer
Classic Saison - unknown IBU - 6.0% ABV - Rating: 4.22/5.0 - RateBeer
From the Brewer:
This is a Belgian-style farmhouse ale. The aroma is dominated by fruity esters reminiscent of citrus fruits along with a moderate earthy and floral hop aroma from the use of Noble-type hops in the brewing process. Has a deep gold, hue that is often hazy, and a voluminous head on pouring as a result of the bottle-conditioning and high natural carbonation. The beer is medium-bodied and has a very refreshing
effervescence which, along with a fairly low alcohol content of 6% by volume, makes this a beer to be enjoyed on a warm day by itself or with a wide range of foods, whether casual or fine dining. Complex flavors and aromas in this beer are a result of the special yeast used in fermentation combined with the additional complexity added by bottle-conditioning in large bottles for at least six weeks before being released.
My Take:
I had never heard of this brewery until someone brought three bottles to a tasting party that I happened to attend. After those tastes, I was compelled to research the brewery. I had a hard time picking between the three beers that are offered at Blackberry Farm, but I'm a sucker for a good saison, and this is a great one, so it gets the nod. Pours a murky, cloudy yellow (true to the saison style) with a huge white pillowtop head that eventually dissipates into a ring. Yeast, herbs, citrus and spices dominate the aroma. Similar flavors, with a nice saison funk. Highly carbed and very light in mouthfeel. Delicate and very dry on the finish. Just visiting my notes and typing this makes me want to seek out this beer again.
Other beers to try from Blackberry Farm:
Screaming Cock Dubbel, Farm Ale, and occasional special batches (dunkel, Scotch, etc.). These three beers are available at the Farm store and the restaurant. Future plans call for the ability to order and ship (I'm longing for that day, as a 3.5 hour trip to the Farm is a bit out of my normal range).
Resources:
http://www.blackberryfarm.com/brewery/landing
The Brewery
Moving to the far west portion of the state... An offshoot of the popular Bosco's brewpubs (located in Memphis, Nashville, and Franklin, TN; and in Little Rock, AR), Ghost River started in 2008 and is now available in over 80 bars and restaurants in the Memphis area. They are a small brewery, with 2,500 kegs a year capacity. They brew with water from the Memphis Sands Aquifer, which they say is perfect water for brewing and makes a great impact on their finished product. Ghost River Brewing is also socially active, supporting the Wolf River Conservancy by donating a portion of the proceeds of every barrel sold. The brewery is totally separate from the Bosco's pub chain that it stemmed from, but they still brew beers for the Franklin brewpub location (which has no onsite brewery).
The Beer
Ghost River Golden Ale
- 19 IBU - 4.0% ABV - Rating:
80 - Beer Advocate
From the Brewer:
Other beers to try from Ghost River: